Full Mouth Reconstruction in Plano, TX
Full Mouth Reconstruction commonly refers to the restoration or rebuilding of all one's teeth in the upper and lower jaw. Full mouth reconstruction does not only apply with one who is completely edentulous (missing all teeth) and in need of full dentures. Full mouth reconstruction will allow the dentist to repair multiple problems in the mouth at one time.
Patients do not need to worry since we will sit down with each patient and go over all of the details with that specific patient's procedure. With full mouth reconstruction, each patient will need a treatment that is slightly different than another. By customizing the treatment to each individual, we can help ensure that the patient is completely satisfied with the result. There are multiple reasons as to why a patient may need full mouth reconstruction, including trauma, infection and long-term wear. To learn more, schedule an appointment by calling (972) 473-8880.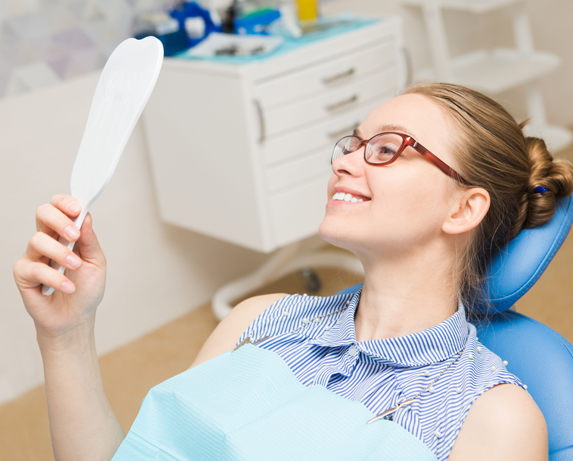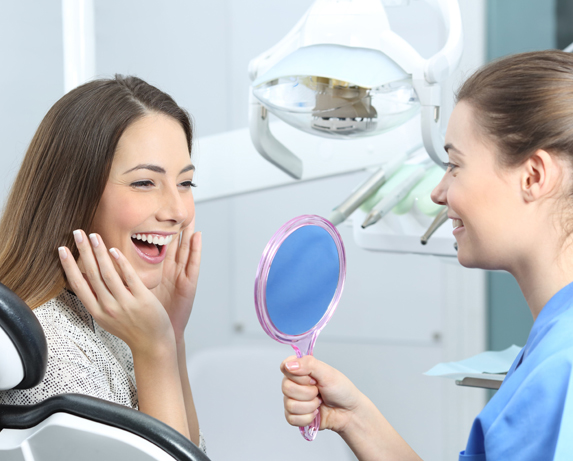 In many cases, the patient may have experienced a traumatic accident and be in need of repairing a chipped tooth, while also simultaneously replacing another tooth that fell out. Since accidents can happen at any time, it is difficult to prepare for the possibility of damaging more than one tooth. Through full mouth reconstruction, the dentist will be able to repair the mouth, while also repairing the appearance and functionality of a patient's teeth.
If a patient experiences an accident that results in damage to the teeth, seeking an emergency dentist as soon as possible is a necessity. If a patient goes to a normal emergency room after damaging a tooth, the nurse will only be able to triage the wounds but not treat the condition. At Active Dental Plano we will find the best treatment for each individual and recommend options that help to repair the damage.
Patients assume that the only option will be one that merely imitates the appearance of a natural tooth and that the patient will have to practice caution when eating for the rest of his or her life. In reality, we can provide possible treatments such as dental implants, dental bonding, dental crowns, dental veneers, dental bridges and more to help repair the appearance and functionality of the tooth. After a full mouth reconstruction at Active Dental Plano our patients will be able to smile confidently and eat what they like since our repairs are long-lasting and sturdy. There is no need for a patient to live with a cracked or damaged set of teeth.
Infection
In other cases, a patient may lose multiple teeth to dental caries (tooth decay), gum disease or other infections. Upon infection, the dentist will do everything in his or her power to prevent the spreading. However, some patients may not visit the dentist at least once every six months and allow the infection to spread. If the infection spreads to the tooth, then there is a possibility that an extraction will be necessary.
When a patient has an infection, a root canal is one option to treat the tooth. A root canal allows the dentist to remove the infected pulp and clean the area. Following a root canal, we will plug up the hole with a dental filling. In the cases where the tooth is removed due to infection, we may recommend a dental implant. The dental implant is a titanium post that bonds with the jaw bone through osseointegration. We will also place a dental crown on top of the implant to create a sturdy and natural-looking tooth.
If the infection has spread to multiple teeth, Active Dental Plano will recommend the best option for treating the infection and repairing one's teeth.
Long-term wear
For some people, proper dental care is not a common part of daily life. When one chooses to not practice proper dental care, the teeth wear down more quickly as a result. Acid from certain foods, types of citrus, beverages, acid reflux, grinding and more are all causes for a patient to lose his or her teeth more quickly.
At Active Dental Plano we can monitor the teeth at least once every six months and help patients remain healthy. For patients who experience these issues on a regular basis and have teeth that are wearing down, we can use full mouth reconstruction to address multiple issues.
Reconstruction methods
At Active Dental Plano we will ensure that each patient receives the best full mouth reconstruction for his or her needs. We can reconstruct a mouth with a variety of dental tools and options at our disposal. The tools, options and restorations for a full mouth reconstruction include:
Dental implants
Dental crowns
Dental veneers
Dental bridges
Dentures
Root canal
Some patients may have concerns over the price of full mouth reconstructions and avoid the necessary treatment. The longer one goes without the necessary treatment, the great the pain and risk. For instance, an adult who loses a tooth and does not seek treatment will allow the jaw to weaken over time. If the jaw weakens enough, then there will not be a way to install a dental implant in the gap.
In other cases, a gap can become infected just as a tooth can; especially if the individual does not keep it clean. The full mouth reconstruction process will take multiple appointments to customize the restoration and then install it. However, it will be worth it since the restoration will give back complete functionality of the teeth. We will be careful and precise during the installation process, making sure that each restoration is complete to perfection.
How do I start my Full Mouth Reconstruction?
If you or a loved one are in need of a full mouth reconstruction for any reason, do not hesitate to call Active Dental Plano at 972-473-8880 and schedule an appointment today. Our staff will go over all concerns and questions that you may have before the appointment. Once you arrive for the appointment, we will make sure that you have a complete understanding of the procedure and what happens after. Call and begin a new life with a full set of healthy, natural-appearing and functional teeth.
Plano's #1 Dentist for Full Mouth Restoration- Affordable Smile Makeovers Near Me - Full Mouth Reconstruction in Plano, TX
The Proof is in Our Patients
278 5-star reviews in Plano, TX and counting…
I had great experience at Active Dental in Plano! Dr. Sam and Rita were amazing and super informative. I highly recommend coming here for any cleanings or procedures. Office is very up to date and staff is super friendly. They have the latest and greatest in technology to provide a great experience!
Amazing job by Dr. Patel!!! I was very concerned as my front teeth needed fillings. How is he going to match the filling ? Well he did. Perfect match. He also reshaped a front tooth it is perfect! Dr. Patel was concerned about me being " happy". I am 58, 4 kids, I have been to alot of dentist - I have never had such a caring attentive one as Dr. Patel. Also a huge shout out to Rita who was just as attentive and caring.
This is by far the best dentist office I've been too. Great experience and they pay attention to detail. Let me know everything I needed done. Even made a plan so I can have the best smile! Thanks a lot and I recommend this place to all of north Texas!!
I had a great experience at Active Dental in Plano. They took care of all my dental needs with expertise. The office staff is super nice and helpful. I can't say enough, I am just so pleased with the dentist.
Active Dental Plano- made me a believer in the dentist practice. Rita, Dr Patel and Louisa/Emily just to name a few are incredible! Someone with dental anxiety yet they have me coming back for more since 2020. It's my 2nd home and I've been treated so well! Forever their patient <3