Dental X-Rays in Plano, TX
What are Dental X-Rays?
In some cases, a problem can occur just below the surface that is difficult to detect otherwise. With the help of x-ray technology, we can see underneath teeth, gums and bone to diagnose many different conditions. The x-rays we use in our office use a minimal amount of radiation and are ideal for patients of all ages. They are used to find impacted teeth, cavities, bone loss and a variety of other problems.
Why would Dental X-Rays be Needed?
You might need x-rays because you've come into the office for an emergency. You might be having a surgery done or we may need to diagnose a particular problem. Apart from invasive procedures and emergencies, x-rays are taken at most bi-annual checkup appointments. These images allow us to monitor for any changes and provide treatment when needed. Our x-rays are safe and very effective in making sure we detect all potential issues with you teeth and gums.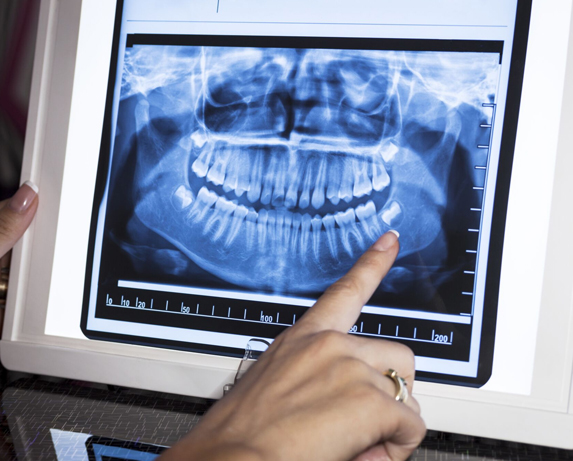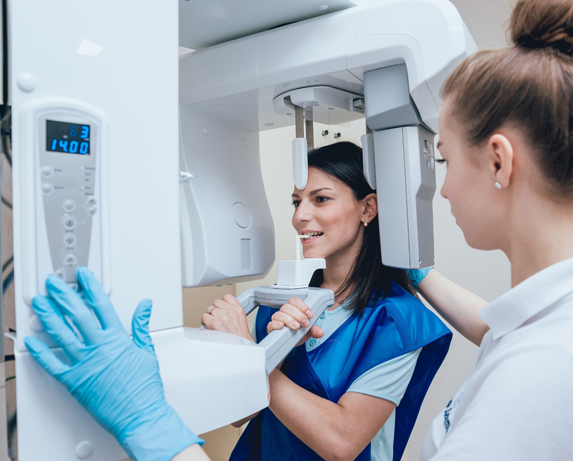 Who's a Candidate for Dental X-Rays?
Every patient is a good candidate for dental x-rays! The amount of radiation that is used is minimal, so the images are 100% safe to have taken.
The benefits of having x-rays taken far outweigh any side effects of the radiation being used. You can expect to have x-rays taken at most dental appointments to make sure your teeth are healthy and that you have no major issues.
Dental X-Rays will ensure that your teeth are not suffering from any decay and that any restorations that you have had done are doing their job. If you are in need of x-rays, Collins St. Dental has you covered!
Dental X-Rays in Plano, TX
We will drape a lead apron over your body to protect you from bouncing radiation. A tiny device is positioned in the mouth over certain teeth. The x-ray machine will then be angled immediately towards this device. The x-ray image is then taken and will be transposed to our computer screens. We will then review these x-rays during your appointment to check for any problems below the surface. You may need to have x-rays taken before a surgical procedure or when there is a suspected problem. Likewise, the x-ray will be necessary at most other appointments so that we can see below the teeth and make note of any changes we've found.
Dental X-rays are safe and will make sure your teeth and gums are in good, healthy shape. They will ensure that you have no lingering issues and if you do, we will be able to diagnose any issues. If you need new x-rays and want to learn more about the procedure, call us now and we can help to answer all of your questions and schedule your appointment! 
Dental X-Rays in Plano, TX - Dental Cleanings & Exams Near Me - Plano's Top Dentist
The Proof is in Our Patients
278 5-star reviews in Plano, TX and counting…
I had great experience at Active Dental in Plano! Dr. Sam and Rita were amazing and super informative. I highly recommend coming here for any cleanings or procedures. Office is very up to date and staff is super friendly. They have the latest and greatest in technology to provide a great experience!
Amazing job by Dr. Patel!!! I was very concerned as my front teeth needed fillings. How is he going to match the filling ? Well he did. Perfect match. He also reshaped a front tooth it is perfect! Dr. Patel was concerned about me being " happy". I am 58, 4 kids, I have been to alot of dentist - I have never had such a caring attentive one as Dr. Patel. Also a huge shout out to Rita who was just as attentive and caring.
This is by far the best dentist office I've been too. Great experience and they pay attention to detail. Let me know everything I needed done. Even made a plan so I can have the best smile! Thanks a lot and I recommend this place to all of north Texas!!
I had a great experience at Active Dental in Plano. They took care of all my dental needs with expertise. The office staff is super nice and helpful. I can't say enough, I am just so pleased with the dentist.
Active Dental Plano- made me a believer in the dentist practice. Rita, Dr Patel and Louisa/Emily just to name a few are incredible! Someone with dental anxiety yet they have me coming back for more since 2020. It's my 2nd home and I've been treated so well! Forever their patient <3