Dental Fillings in Plano, TX
What's a Dental Filling?
Tooth decay is a condition that affects adults from all walks of life. According to one study, up to 92 percent of adults have experienced a cavity at some point in their lives.
A little cavity can turn into a bigger issue I f the tooth is left untreated. It may get infected, requiring a root canal or maybe even and extraction.
If you have a cavity, your dentist will most likely offer dental fillings as a treatment. Fillings are made out of composite and help to replace any areas within a tooth that have become severely decayed.
The decay is taken out of the tooth and the filling put into place simply and quickly. Fillings can be suitable for both pediatric and adult patients who have cavities. They can last for quite a number of years before they might need replacement.
Why are Fillings Needed?
The reason you might need a filling is because you have a cavity. Cavities are defined as small areas of decay in one or more teeth. Unfortunately, if you fail to treat cavities early on, the decay can go deeper into the tooth and cause the need for a root canal or even a full extraction. Fillings are done before the decay is allowed to get this bad.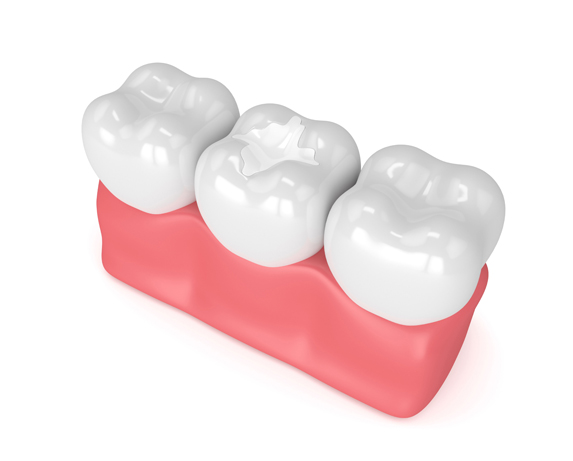 Who's a Candidate for Dental Fillings?
Patients of all ages and needs who have cavities are good candidates for fillings. We use tooth-colored composite fillings so that no one will even know you have a filling in one or more of your teeth.
Likewise, it isn't uncommon for patients to want to replace older metal fillings with white ones. We can provide both treatment of cavities as well as replace older fillings that you might have.
If you have cavities, you are a prime candidate to get dental fillings! Get in touch with our office today to make sure you get your fillings taken care of so you don't run in to more expensive issues and resotrations in the future.
Dental Fillings in Plano, TX
The procedure is started by taking out any decay from the tooth. If multiple cavities are present, we can work on all of this at the same appointment as indicated. We then prepare the tiny hole that was made in removing decay for the composite material. Color matching the material ensures that the composite blends well with the rest of the tooth.
The material is put into the hole and smoothed out to remove any excess. It's then hardened and cured into place, which both melts it into the tooth and prevents it from falling out over time. We will make sure that your bite and smile feel and look great after your procedure. We want to make sure your treatment lasts and doesn't affect any of your other teeth. If you think you might need a filling, call us now and we will help to get you in for an examination. 
Dental Fillings in Plano, TX - Affordable Dental Fillings Near Me - Plano's #1 Restoration Dentist
The Proof is in Our Patients
278 5-star reviews in Plano, TX and counting…
I had great experience at Active Dental in Plano! Dr. Sam and Rita were amazing and super informative. I highly recommend coming here for any cleanings or procedures. Office is very up to date and staff is super friendly. They have the latest and greatest in technology to provide a great experience!
Amazing job by Dr. Patel!!! I was very concerned as my front teeth needed fillings. How is he going to match the filling ? Well he did. Perfect match. He also reshaped a front tooth it is perfect! Dr. Patel was concerned about me being " happy". I am 58, 4 kids, I have been to alot of dentist - I have never had such a caring attentive one as Dr. Patel. Also a huge shout out to Rita who was just as attentive and caring.
This is by far the best dentist office I've been too. Great experience and they pay attention to detail. Let me know everything I needed done. Even made a plan so I can have the best smile! Thanks a lot and I recommend this place to all of north Texas!!
I had a great experience at Active Dental in Plano. They took care of all my dental needs with expertise. The office staff is super nice and helpful. I can't say enough, I am just so pleased with the dentist.
Active Dental Plano- made me a believer in the dentist practice. Rita, Dr Patel and Louisa/Emily just to name a few are incredible! Someone with dental anxiety yet they have me coming back for more since 2020. It's my 2nd home and I've been treated so well! Forever their patient <3